Between the writing and the reading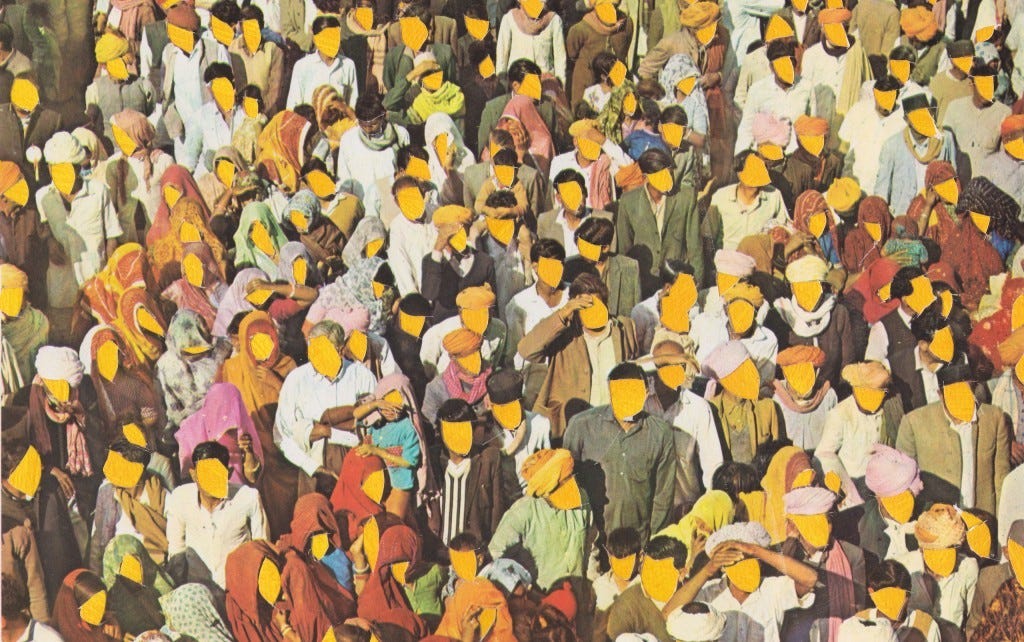 Is it mine if I add some yellow? – collagist B.D. Graft questions the inherently infinite nature of the creative act. Extra merit for using that very particular shade of very-almost-orange yellow.
Sometimes something just looks great – longtime collaborators Matt Willey and Dan Crowe (of Zembla, Port and general awesomeness fame) discuss mentors, magazines and why the best ideas happen over beers.
Photo editing and book design – picture editor Samantha Johnson discusses the inner workings of the Penguin art department.
The Last Resort – also from the excellent Magnum blog, Martin Parr reflects on his iconic look at early eighties British beach culture.
Ace Jet 170 – if you don't already know about Richard Weston's excellent design blog, get on it at once. Recent posts include Len Deighton's action cookery, the face of Demi-Groot and the joy of callipers. Plus lots and lots of maps.
Notes from a small press – Belt Publishing/Magazine founder Anne Trubek's newsletter offers a fascinating insight into the world of publishing, exposing all the practical nitty-gritty that happens between the writing and the reading.
Book covers of note – the latest roundup by the Casual Optimist, with some particularly strong typographic executions. Personal favourites: The Muscle and The Five.
The school of twitter – many moons ago, Tom Actman eloquently compared twitter to school, and the analogy has been stuck in my head since.
Atlas of endangered alphabets – excellent project aiming to save indigenous and minority writing systems. Wondering how public domain typefaces could help; could be an interesting exercise for design students.
Aaammmbbbiiieeennnttt – a six hour time-stretched version of Brian Eno's Music for Airports. As calming as it sounds, although it does kind of make me need the loo.
Wood – while searching for something else the other day, I chanced upon Specimens of chromatic wood type, borders, etc. manufactured by Wm. H. Page & Co. from 1874. It is quite, quite magnificent.
The impossible architecture of video games – Ewan Wilson looks at virtual playgrounds and the influence of artists like Giovanni Piranesi, MC Escher and Lebbeus Woods.
Bread Clip Neue – a typeface based on bread clips, because of course.
That is all.